HEALING PRAYER MINISTRY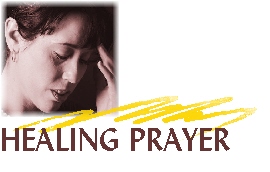 The Healing Prayer Ministry of New Life Assembly is founded on the belief that Jesus heals today and that we are called to pray for all who come in need of spiritual, emotional, or physical healing. Hundreds of people in our community have been touched by the power of God, and have received healing, deliverance, and restoration. There have been many testimonies of healing from cancer, muscular dystrophy, glaucoma, and various other physical infirmities. We have seen God do great miracles.
While we always pray for healing in our main services, Healing Prayer Ministry is an intensive intercessory prayer ministry, where teams of trained prayer ministers are available by appointment to pray for your individual needs. These sessions are conducted in an atmosphere of strict confidentiality.
Fridays @ 8 PM: Please call to schedule a prayer appointment (954)981-6405
". . . and the power of the Lord was present to heal them." Luke 5:17
PRAYER MEETINGS
Sundays 7AM-8AM and Regular Sunday 6:30PM Prayer Emphasis Nights as Announced
Very early in the morning, while it was still dark, Jesus got up, left the house and went off to a solitary place, where he prayed. Mark 1:35 (NIV)
Many years ago the Lord revealed in our midst that the secret of our success, of our growth and our ability to achieve everything the Lord wants for us, is through prayer, as demonstrated in Jesus' life.
We gather together for a time of praise and prayer, focused on what God has been speaking to our church body, and we also join in a time of corporate worship, and general intercession. Everyone is welcome.
FAITH BUILDING RESOURCES FOR HEALING
Faith is essential to receiving your healing. Jesus emphasized this vital connection repeatedly saying to those who had come to Him and received healing, that it was their faith that made them whole (Mark 5:34; 10:52).
Our faith is built up by hearing the Word of God (Rom. 10:17). Below are several recordings of Healing Scriptures that will help to saturate your soul with faith to receive your healing. Prayerfully listen to them over and over again and pray along with them.
Healing Scriptures with Prayers
Healing Prayer and Scriptures by Rev. John Hagee
Healing Prayer and Scriptures by Rev. Benny Hinn
E-mail prayer requests to churchoffice@nl-fl.org